Coaching
Helping managers and leaders work more effectively
Coaching is more than just professional development for a single person. It is a way to help managers and leaders work more effectively within their organization, thus benefiting the entire company. There are four steps to effective coaching:
1. Understand the Context. We begin with a job analysis to help the coach understand the unique needs of the business.
2. Assess the Leader. We assess the strengths and weaknesses of the individual to be coached.
3. Write the Development Plan. Based on the context and the individual assessment, we create a development plan that will guide the coaching experience and provide clear expectations.
4. Conduct Coaching Sessions. Coaching sessions (often every other week) take place over a six to nine-month period.
The end result is a stronger, more effective leader, who can help the organization meet its goals.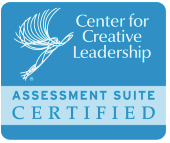 360 Degree Surveys

Coaching may include 360-Degree surveys or interviews. These surveys provide feedback to leaders on how their supervisors, peers, and direct reports see their performance. The idea is simple – if leaders know how they are performing, they can learn from it.


There are two types of 360-Degree surveys:


Written surveys ask multiple questions about and provide quantitative scores on a person's performance on specific dimensions such as team effectiveness or decision-making.


Verbal surveys do much the same thing as written ones, but allow people to offer more specific feedback about an individual in an interview with the consultant. For example, one of our favorite questions is: "If you could change one thing about this leader to help him/her be more effective, what would it be?"


We can help you figure out what kind of 360-Degree survey will work best for your organization and how best to implement it. Then we work with you to interpret the survey and use it for coaching and development.
---
Leadership Development Programs
Preparing individuals for higher level positions
Individuals are typically promoted because they are star performers, but that does not guarantee that they are also great leaders. Leadership development programs are designed to create intentional processes to enhance employee knowledge, skills, and abilities that will prepare them for higher level positions. An effective program addresses both the context of the company (i.e., past, present, and future) as well as the necessary skills leaders will need to carry the organization forward. In this way, individuals are prepared for greater responsibility and can lead effectively in the future.
For executive level leaders, we often suggest a two-track approach
Group Training. Exercises for the Executive Leadership Team (ELT) on specific content areas.
Individual development. Based upon and augments the group training.
The model below shows the main features of the two-track approach for leadership development. Individual and group development would occur simultaneously and complement each other throughout the process.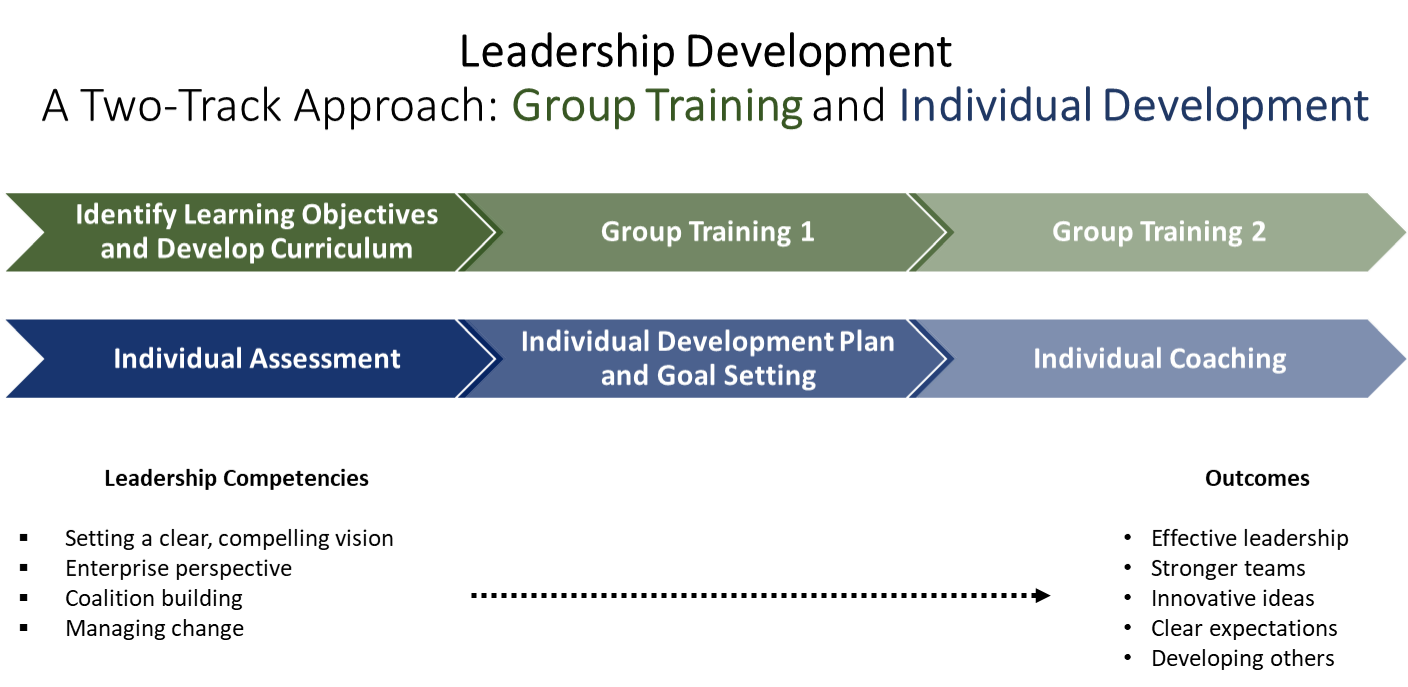 We ensure that our leadership development programs meet the following criteria to be truly effective:
Powerful. Participants describe the program as "hard hitting" or "high impact" because it demands a great deal of growth and skill building.
Tailored. The program is designed to meet the unique needs of the organization and the people being trained.
Personal. Participants write individual development plans that help them build on their strengths and address their weaknesses relative to the competencies addressed in the program.
Interpersonal. Participants learn about the impact they have on the people around them and how their interpersonal style helps and hinders their ability to lead.
Measured. Outcome measures are specific and link the program to organizational objectives like reducing turnover or high marks on employee engagement surveys.
Led by skilled trainers. Leadership development programs are only as good their trainers. The bottom line: get the best trainers you can. We can help make the happen.
---
Managing Change
Responding effectively to the unexpected
One constant in every organization is change. Regardless of whether it is a result of intentional planning or due to unexpected events, the question is how to respond effectively. We help leaders manage change by using a variety of assessments and tools that allow the organization and staff to move as smoothly as possible through the changes. Examples of common steps include:
Conducting change readiness assessments
Developing comprehensive change management strategies and road maps
Facilitating change management teams
Training and coaching change leaders
Building communications plans that foster two-way feedback between leaders and employees
Measuring change processes and outcomes
Based on the situation, we tailor the approach to address the organization and employee needs. Over the last forty years, we have worked with dozens of organizations to help them move through change efforts and to reach effective, lasting solutions.

We can also help with:

Team Performance
Meeting and Retreat Facilitation
Conflict Resolution and Mediation
Learn More

Organization Reviews
Employee Selection, Onboarding and Retention
Performance Management
Learn More