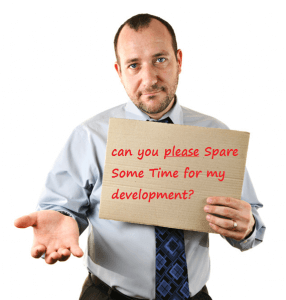 Career development is the number one topic on many employees' minds. Now more than ever an organization's success can depend on whether or not employees are engaged in their own learning and development. In fact, according to a recent nation-wide survey, the largest contributor of employee turnover is not salary or supervision but rather "inadequate opportunities for professional development." Effective leaders are holding themselves accountable for providing such opportunities. However, while there are numerous actions that leaders can take, there are also defined methods that they should follow if they want their employees to become engaged in their own learning and development. The purpose of this article is to make clear the sometimes vague concept of employee development. In it, I will describe why leaders should invest in the development of their employees, what specific actions they should take, and how they can best support their employees throughout the developmental process.
Benefits of Employee Development
When leaders invest their time and energy to develop their employees, their effort is acutely acknowledged (and even reciprocated) by their employees. In fact, the more attention that a manager gives to the development of his/her employees, the more motivated those employees will be to return the favor. This motivation leads to increased effort from employees as they work hard to express their gratitude.
The process described above is called perceived investment in employee development (PIED). It is defined as the degree to which employees perceive that their supervisor and/or the organization is investing in their own growth and development. Organizational researchers have learned that PIED is not just a source of increased motivation – PIED is strongly related to a number of positive outcomes, such as:
Job commitment
Intrinsic job motivation
Organizational citizenship behavior (helping behavior that supports the functioning of the organization)
Quality of work-life
Employee retention(this means reduced costs associated with selection and training)
According to organizational scholars, the benefits of investing in employee development are clear. Having employees who are engaged in learning is described as "one of the most important sources of competitive advantage for organizations." 1
On-The-Job Development
A majority of our learning as adults takes place within the daily work environment. That being said, on-the-job development (OJD) can be defined as an intentional process for learning, development, and personal growth through realistic work experiences. Leaders play an important role in OJD: rather than teaching, the leader's job is to facilitate learning by engaging his/her employee in a developmental process. This means providing resources (e.g., assignments, information, feedback, access to people, and some one-on-one time) and support throughout the process.
You might still be asking "that's great, but what does an OJD process actually look like?" Well… in truth there is no single method for OJD, although there are definitely effective and ineffective approaches. A particularly effective method is the intentional use of challenging work experiences, or stretch assignments. Research (e.g., DeRue & Wellman, 2009) has shown that challenging work experiences are particularly effective at:
Strengthening existing skills and competencies
Learning new skills
Developing critical leadership skills
Building cross-functional relationships
Why do stretch assignments work? Because development occurs when employees are given assignments that are different from their typical responsibilities and stretch their abilities. Typical stretch assignments (click here for a reference guide containing a number of examples of stretch assignments) include leading a task-force, job or team rotation, project work, spending time with clients, or even evaluating the effectiveness of a particular process. The most beneficial stretch assignments are intentional; that is, they are selected to develop specific competencies and mapped out using an individual developmental plan. Likewise, single stretch assignments can develop multiple competencies. For example, if a new supervisor wishes to develop her communication, public speaking, and strategic thinking skills, then an aligned stretch assignment might include researching and presenting a new and relevant technology to her team. Finally, leaders should be careful not to stretch employees too far beyond their comfort zone. To see an executive director's personal story about what can go wrong when you stretch someone's learning too far, follow the link to open"A Lesson in Learning."
How to Support Success
Can a leader simply assign a tricky task and expect their employee to learn? There's more to it than that. Leaders facilitate learning, not assign learning. To do this, the leader:
Collaborates with his/her employee to define specific learning goals, competencies, or skills
Engages his/her employee in the learning process (for a deeper dive into employee engagement, go here)
Chooses an adequately challenging assignment that will support those goals (e.g., researching and presenting a new idea at the next team meeting, spending X hours per week working on a project in a different department, leading an employee task force on establishing action plans based on the most recent employee survey)
Gives performance feedback that is timely, specific, and actionable
Provides encouraging support by (a) having a conversation once every week or two to discuss the process, and (b) giving words of praise and reassurance… it can be tough doing new things!
Reflects on the learning process, either through one-on-one meetings, having the employee keep a learning journal, or using self -reflection forms that ask questions like: What did you learn? How is it relevant to your job? What are 3 things you did particularly well? How did you overcome obstacles?
To summarize, take a moment and think about how many of your peers actively seek feedback about their performance. Chances are there are not too many. Because most of us will not actively develop ourselves at work, effective leaders should fill this role. Leaders can initiate employee development by following the process described above. When leaders take the time to develop their employees, organizational researchers have identified many positive outcomes for employees, leaders, and the organization. Collaborating with employees encourages stronger relationships and predicts employee engagement in future learning activities. Should leaders actively invest in the development of their employees? When it's this easy… why not!


Additional Resources for On-the-Job Development
– Robert Bullock
1 Bezuijen, X. M., van Dam, K., van den Berg, P. T., & Thierry, H. (2010). How leaders stimulate employee learning: A leader-member exchange approach. Journal of Occupational and Organizational Psychology, 83, 673-693.
Related Stories
In a recent interview with Harvard Business Review, strategy expert Paul Leinwand described an under-appreciated yet ultimately critical gap that persists in...