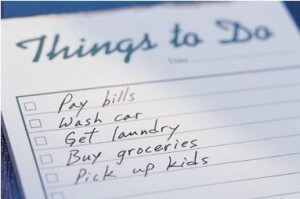 Imagine you are on a first date. After a wonderful night of good conversation, fine dining and lots of laughter, your date asks how you felt about the evening. Even though you normally would be reserved, you feel good about this person so you say exactly how you feel. When you're finished, your date turns and walks away without a word.
How would you feel? Confused? Hurt? Betrayed? You shared your thoughts and the other person just walked away. You thought they cared about you.
Now imagine your company asks employees to fill out a survey. If people take time to give their feedback and management does nothing with the information, how would employees feel? Confused? Hurt? Betrayed?
When organizations invite employees to share their opinions and ideas, they send the message that the organization cares what employees think. They also create the expectation that managers will use the employee feedback to make a "To-Do" list of decisions and/or changes that will then be carried out. This is important because employee surveys are a powerful tool for engaging employees, driving positive organizational change, and improving productivity. But remember the lesson from our "first date" story: If a survey is given to employees and nothing happens as a result, employee engagement, job satisfaction, and satisfaction with leadership will often decrease. In fact, recent research has shown that there is a strong and direct relationship between (A) taking action from employee surveys (also known as "action planning") and (B) employee engagement & satisfaction with their bosses. One study examined the outcomes of three common choices that managers make when given survey results. They found the following:
Managers who completed an action plan based on survey results saw a high degree of improvement in employee engagement (based on subsequent survey scores) and a markedimprovement in satisfaction with management.
Managers who created but did not complete action plans based on survey results saw no improvement in employee engagement scores.
Managers who did not create or complete action plans at all saw a net decrease in employee engagement and satisfaction with management.
The takeaway is this: the next time you get employee survey results for your department, no matter how you feel about the results, the worst thing you can possibly do is nothing.
Here are some quick best practices when it comes to employee surveys and action planning:
Action plan from the bottom-up: Have supervisors share survey findings with their employees in a group setting, where they can discuss the results, get input, ask for ideas and come up with an agreed-upon plan of action for improving weak areas.
Ensure Transparency: Make sure senior leaders, managers, and supervisors get survey results at the SAME time. This will communicate honesty and transparency to employees.
Speed: Action plans should be carried out within the same quarter that survey results were delivered. If they take too long employees and managers will lose interest and no lasting change will occur.
Read more about employee engagement surveys: Employee Engagement Surveys: What to Do with Your Survey Results
Related Stories