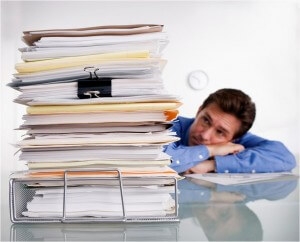 On-the-job (OTJ) stress has become an increasing concern for organizations worldwide. Largely due to the global recession, where reduced profits and spending have led to massive layoffs across many industries, companies are often having to scale back their workforces while adding duties and tasks to the remaining employees. With a record 30% of workers fearing impending layoffs (Gallup, 2011), now more than ever employees are experiencing OTJ stress. In fact, in another recent Gallup poll (2010), employees were more concerned with OTJ stress than all other common workplace characteristics including pay, benefits, recognition, and advancement. However, the future is not entirely as grim as it may seem; there exists a wide variety of interventions that can manage the causes and consequences of job stress, which will be outlined here.
Consequences of OTJ stress are far-reaching and can impact organizations at every level, from company-wide to individual contributor. Researchers have identified numerous outcomes, some of which include include:
Reduced productivity
Increased absenteeism
Poor quality of work-life
Reduced customer satisfaction
Mental and physical health issues (e.g., anxiety, depression, weight gain, hypertension)
Employee burnout
Increased hospitalization rates among employees, especially for heart-related issues
Stress Management Interventions
So how do you manage OTJ stress in your organization? Stress management interventions (SMIs). These are targeted interventions, either directed by internal OD experts or external consultants, which include a broad range of programs that organizations can initiate to reduce OTJ stress. SMIs can be categorized in three different ways:
Primary interventions are proactive. They seek to alter the sources of stress before significant damage can be done. These interventions happen at the organizational level. They have the greatest potential to affect stress but typically involve large-scale change
Secondary interventions are ameliorative. They reduce the severity of stress by modifying individual/group responses to stress. Of all three categories, this is the most commonly used because providing employees with training on stress management techniques requires less resources and is less expensive than changing the underlying causes, such as organizational environment or culture

Examples include:Employee training on stress management, time management, and goal setting; Cognitive-behavioral (active training on changing cognitions and providing coping skills); Journaling; Deep breathing and relaxation techniques

Tertiary interventions are reactive. They involve treating and rehabilitating employees that have been negatively impacted by stress. If nothing is done about stress until this stage, employees could be experiencing negative health conditions as a result of their stress

Examples include: Counseling; Occupational therapy; Medical interventions
Interventions done at the primary stage are by far the most effective at protecting employees from the effects of OTJ stress. However, because they involve large-scale organizational change (e.g., culture change), they are often too costly and time consuming for most organizations. Also, primary interventions won't work with organizations that are actively seeing high amounts OTJ stress in their employees (how well would a culture change initiative work if 20% of the workforce was just laid off?). Therefore, most organizations deal with OTJ stress at the secondary and tertiary levels.
So what kinds of interventions have been proven the most effective? How effective are they? What are their specific outcomes? And what can you start doing now to increase your chance of successfully reducing OTJ stress in your organization? Read on to Part 2 of Managing Job Stress to find out.
Related Stories
Coaching, Developing Stronger Leaders
Leading an organization is challenging even in the best of times; leading through times of ambiguity and change is herculean. With the economic turbulen...