Your stomach drops and you begin the slow walk down the hallway, taking as meandering a route as possible. You make it to the office door and mumble something to the secretary as you take a seat. Your legs shuffle uncomfortably as you wait in the chair until the door behind you opens and you slide as inconspicuously as possible inside. No matter how encouraging or optimistically portrayed, annual reviews inevitably feel like you're being sent to the principal's office.
In his 2017 book, Next Generation Performance Management: The Triumph of Science over Myth and Superstition, Alan Colquitt addresses decades of research that tell us the same thing: the way we persist in conducting performance management (PM) does not work. It is time for us to listen to the data and reimagine how we conduct PM to positively impact individuals, teams, and organizations.
The institutionalized approach to PM typically follows the following five steps: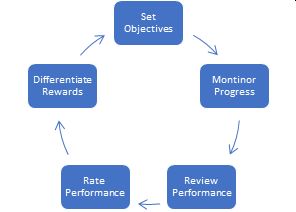 This process emphasizes internal competition between employees, creates inaccurate ratings based on biases, and reinforces a pay-for-performance mentality with $345 billion dollars spent each year on merit-based bonuses and rewards. This approach is ineffective and the empirical evidence to support it is feeble. Some organizations emphasize better feedback, expecting improved outcomes if only the supervisor can provide input in a more effective manner. Other organizations try to reduce the pain of annual reviews by simplifying the process, but this does not address the heart of the issues with PM.
A financial management firm in North Seattle asked our consultants at Scontrino-Powell to review their PM system. In our assessment, we discovered two critical elements. First, they had already differentiated compensation from PM. This is one of hardest patterns for companies to break. Often it is assumed that pay-for-performance is the best way to motivate employees and that leverage is lost when merit-based bonuses and rewards are removed. Instead, compensation needs to be based on fair, market-value and differentiated from performance conversations. Bonuses should be based on collective successes by a team or the organization instead of individual rewards that pit employees against each other. Second, the firm was following a best practice of 360-degree reviews, but the time and resources it took to conduct each year was not worth it.
We transitioned their PM process to be coaching-based and began by conducting a coaching workshop for all employees. This helped supervisors and staff understand the process and the partnership coaching offers. Employees and managers were now collectively responsible to set meaningful objectives that support their responsibilities and the organization's goals. Assessing progress was now clearly tied to a collective direction for the company and focused on the work not just the person. Additionally, the conversations occurred monthly providing enough time for progress to be made while instilling a culture of objective-based conversations.
After our contract concluded, the company went a step further and now utilizes a software tool to track progress and align individual, team, and organization objectives. No longer do they wait each year with anxiety to have the principal call their name.
For a 6 minute and 16 second ignite-style overview of his research, enjoy Alan Colquitt's presentation, Performance Management: Stop Playing the Game:
Related Stories