If you think back to the most important lessons you've learned during your career, what are they? How did you learn them? Chances are, the most lasting and influential things you've learned have been when you have succeeded or failed in the face of a challenging and dynamic experience. Realizing that experience is the best teacher, smart organizations everywhere are using on-the-job experiences to facilitate learning and development for their employees and leaders. These organizations understand that engagement in learning can be one of the "most important sources of competitive advantage"1today. The purpose of this article is to provide you with a general outline for building and supporting a process for on-the-job development. Note that this is difference than on-the-job training (OJT), which is one-on-one training on the job site.
Building an On-the-Job Development Process
Challenging, on-the-job experiences can be a powerful tool for learning. When used intentionally as a vehicle to develop leadership (and employee) competencies, it can lead to increased commitment, confidence, motivation, organizational citizenship behavior, and retention. Below, we review the major steps in creating and supporting your own on-the-job learning process. These include:
Identify and define specific competencies that will be developed. Competencies are defined as the knowledge, skills, abilities, and behaviors that are essential for strong performance; they can be identified by looking at job descriptions, strategic goals, and team or departmental objectives. Competencies are aligned with organizational strategy can have the greatest positive impact.
Interview leaders across your organization to identify key events from their own experience where they had to rely on one or more of the competencies to succeed. Show them the list from Step 1 and ask them to think back on their personal learning/developmental experiences (within the organization) that were focused around specific competencies. As you interview leaders you are looking for trends where certain experiences seem to be aligned with their development of certain competencies. These trends suggest that when leaders have experienced situation X, they develop competencies Y and Z.
Using the results of steps one and two, create a matrix that links abilities with specific developmental experiences. Ensure the experiences are relevant to the organization by passing the matrix around to leaders and having them check for relevance. We've provided an example of what this might look like below.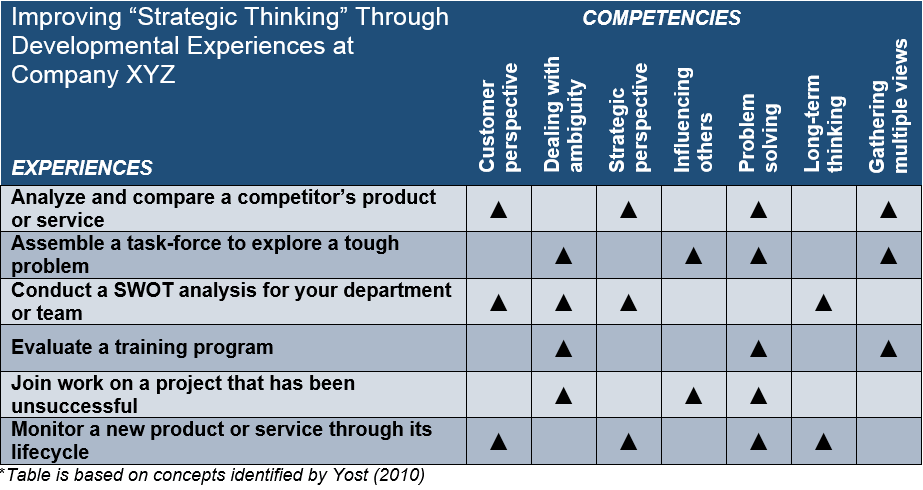 Success Factors
Don't stop here – once the desired competencies and developmental experiences have been identified, it's more of a matter than just providing those experiences to leaders. To maximize learning and transfer, you must also build in certain factors for success, which are described below2
Before:
Complete an individual development plan. Because on-the-job learning is significantly different from other developmental processes like formal training, it is important to use a developmental plan template that is specific for experience-based learning. In fact, this is so important we have even provided just such a template for you to use.
Set specific goals for personal learning. For example: Learn two new strategies for leading in ambiguous situations; Learn how to conduct a SWOT analysis; Develop problem-solving skills and learn one formal method for problem-solving.
Separate on-the-job development from formal performance appraisal. Never evaluate the learner's job performance based on their success or failure in learning assignments, otherwise it would be very difficult to take a learning orientation!
During:
Provide specific, behavior-based feedback. DeRue and Wellman (2009) found that access to feedback plays a critical role in on-the-job leadership development because it reduces uncertainty about performance, allowing learners to focus more of their mental energy on the task at hand (click here for an article that identifies seven factors that need to be present for feedback to be effective).
Provide small wins to build confidence. Experiences that are too difficult may have a negative impact on learning and development.
Provide opportunities for real-time intentional reflection on what was learned and how it relates to the larger learning goals. Encouraging reflection (e.g., on general reactions, particular skills used, and any lessons learned) promotes experience-based learning
This can be included in the developmental plan by providing a space for learners to describe a specific activity, their general reactions, what skills they used, and what they learned.
After:
Conduct a debriefing session. Review what was learned, what went well, what could be improved, and how learned skills can be transferred to other areas.


Additional resources for developmental assignments
We hope this article has provided you with some insight and structure for looking at experiential learning and development in your organization. The process described is meant to be viewed as a general guideline. We have developed dozens of training and development programs for organizations and can say from experience that a successful on-the-job development process requires the guidance of an expert, intentional alignment with other internal processes, and enthusiastic support from leadership. But when it's done correctly, it can unlock the potential of any organization's most important resource – its people.
– Robert Bullock

References:
Much of this article was built from principles described in greater detail by Yost and Plunkett's book Real time leadership development
1 Bezuijen, X. M., van Dam, K., van den Berg, P. T., & Thierry, H. (2010). How leaders stimulate employee learning: A leader-member exchange approach. Journal of Occupational and Organizational Psychology, 83, 673-693.
2Success factors/Recommendations are based on the following research:
DeRue, D., Nahrgang, J., Hollenbeck, J., & Workman, K. (2012). A quasi-experimental study of after-event reviews and leadership development. Journal of Applied Psychology, 97, 997-1015.
DeRue, D., & Wellman, N. (2009). Developing leaders via experience: The role of developmental challenge, learning orientation, and feedback availability. Journal of Applied Psychology, 94, 859-875.
Yost, P. R., & Hereford, J. (in press). Leadership maps: Identifying developmental experiences in any organization. In McCauley, C., DeRue, S., Yost, P. R., & Taylor, S. Experience-driven leadership development: Strategies, tools and practices. San Francisco, CA: Wiley.
Yost, P. R., & Plunkett, M. M. (2009). Real time leadership development. London: Wiley-Blackwell.
Related Stories
Coaching, Developing Stronger Leaders
Leading an organization is challenging even in the best of times; leading through times of ambiguity and change is herculean. With the economic turbulen...